WAYNE JAY
ACTOR/VOICE ACTOR
Friendly intelligence and a quirky, mysterious charm.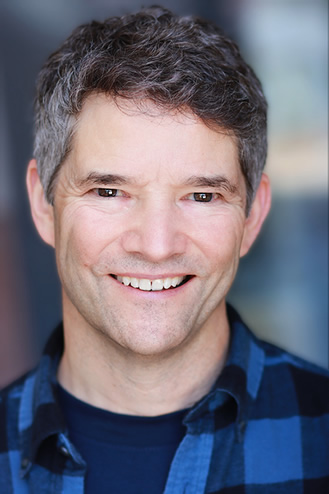 Bright, expressive, approachable, quirky, memorable—
you won't forget Wayne Jay's voice after you hear it. His sound is both practical and playful, and always full of possibilities. No persona is out of his range: dad, friend, teacher, coworker, doctor, lawyer, scientist, victim, nerd, creep. He creates compelling characters with his charming yet mysterious voice.
Wayne has decades of experience as a professional voiceover actor, onscreen and stage actor, singer, and musician. Through the years, he has developed a profound sense of artistic and emotional intelligence that saturates all his creative endeavors. What's more, Wayne has a background in aerospace engineering; he's just as comfortable with complex jargon and scientific processes as he is with more poetic and imaginative concepts.
No matter the specifics of a project, Wayne brings the attitude and ethic of a true professional to the table. Directable, persistent, and collaborative, he's fun and easy to work with; and will always continue working until the client loves what they hear.
Currently based in Burbank, California, Wayne works from his broadcast quality home studio. For a sound of incredibly friendly intelligence and a quirky, mysterious charm, book Wayne Jay today.